WEEE
Old Electronics Recycling
As a result of the enactment of the new "ElektroG" laws regarding the reclamation and disposal of old electrical and electronic devices, since March 24, 2006, there are new obligations for manufacturers, importers, municipalities and consumers
Of course, PIKO Spielwaren GmbH fulfils the requirements (registration, marking and reclamation obligation) of ElektroG.
Our company is registered under WEEE Registration No. DE 24216800.
Consumers should be aware that old and unwanted electrical devices may no longer be discarded in the normal garbage.  Instead, since March 24, 2006, consumers are required to recycle these items via the locally designated methods in the given municipality.  In some localities, consumers may take advantage of free collection centres.

How are the devices marked?
Electrical and electronic devices which fall under the requirements of ElektroG are at this point in time marked with the following symbol -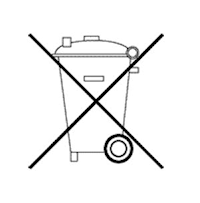 - and may no longer be discarded in normal garbage, but must instead be recycled via return to the manufacturer or importer, or via the locally designated method.
Which devices are regulated?
Radios, computers and other electrical and electronic devices, for example, mobile phones, dishwashers, electric shavers, egg cookers, etc.  ElektroG applies to most electric devices which operate on electric current or electromagnetic fields.


What does this mean to local communities?
Federal and/or state governments set forth the collection responsibilities to be carried out by local municipalities.  These are typically fulfilled by locally designated disposal firms, who receive and handle old electrical and electronic devices from consumers.


Recycling with PIKO?
Per the legislation, recycling of old electrical devices is normally handled at local recycling centres.  PIKO Spielwaren GmbH also offers consumers the opportunity to recycle old models at no cost through retailers/stockists.
Regulations on Batteries
This is one way you can help protect the environment!
Batteries must not be discarded in the regular garbage.  Consumers are legally required to recycle all used batteries and rechargeable batteries through a designated recycling centre, or where batteries are sold.  Batteries are marked with a symbol showing lines through a garbage can, as well as a chemical symbol indicating certain contents, such as

Cd (Cadmium),
Hg (Mercury) or
Pb (Lead). 

Consumers may also recycle used batteries and rechargeable batteries in normal household quantities through PIKO retailers/stockists or direct through PIKO in Sonneberg.
( CZ ) Správná likvidace tohoto produktu
(Zničení elektrickeho a elektronického zařízení)
Tato značka zobrazená na produktu nebo v dokumentaci znamená, že by neměl být používán s jinými domácími zařizenimi po skončení svého funkčniho obdobi. Aby se zabránilo možnemu znečištēni životního prostředi nebo zranění člověka díky nekontrolovanému zničení, oddělte je prosíme od dalších typů odpadů a recyklujte je zodpovědně k podpoře opětovněho využiti hmotných zdrojů. Členové domácnosti by mělí kontaktovat jak prodejce, u něhoż produkt zakoupili, tak místní vládní kancelář, ohledně podrobností, kde a jak můžete tento výrobek bezpečně vzhledem k životnímu prostředí recyklovat. Obchodnící by měli kontaktovat své dodavatele a zkontrolovat všechny podmínky koupě. Tento výrobek by se neměl michat s jinými komerčními produkty, určenými k likvidaci.
 
( HU ) A termék megfelelő leadása
(Elektromos és elektronikus készülékek hulladékkezelése)
A terméken vagy a hozzá tartozó dokumentáción szereplő jelzés arra utal, hogy hasznos élettartama végén a terméket nem szabad háztartási együtt kidobni. Annak érdekében, hogy megelőzhető legyen a szabálytalan hulladékleadás által okozott környezez-és egészségkárosodás, különitse ezt el a többi hulladéktól, és felelősségteljesen gondoskodjon a hulladék leadásáról, a hulladékanyagok fenntarható szintı újrafelhasználása céljából. A háztartási felhasználók a termék forgalmazójától vagy a helyi önkormányzati szervektől kérjenek tanácsot arra vonatkozóan, hová és hogyan vihetik el ez elhasznált terméket a környezetvédelmi szempontból biztonságos hulladékleadás céljából. Az üzleti felhasználók lépjenek kapcsolatba a forgalmazóval, és vizsgálják meg az adásvételi szerződés feltételeit. A terméket nem szabad leadni kereskedelmi forgalomból származó egyéb hulladékkal együtt.
 
 
 
( DE ) Korrekte Entsorgung dieses Produkts (Elektromüll)
(Anzuwenden in den Ländern der Europäischen Union und anderen europäischen Ländern mit einem separaten Sammelsystem)
Die Kennzeichnung auf dem Produkt bzw. auf der dazugehörigen Literatur gibt an, dass es nach seiner Lebensdauer nicht zusammen mit dem normalen Haushaltsmüll entsorgt werden darf. Entsorgen Sie dieses Gerät bitte getrennt von anderen Abfällen, um der Umwelt bzw. der menschlichen Gesundheit nicht durch unkontrollierte Müllbeseitigung zu schaden. Recyceln Sie das Gerät, um die nachhaltige Wiederverwertung von stofflichen Ressourcen zu fördern. Private Nutzer sollten den Händler, bei dem das Produkt gekauft wurde, oder die zuständigen Behörden kontaktieren, um in Erfahrung zu bringen, wie sie das Gerät auf umweltfreundliche Weise recyceln können. Gewerbliche Nutzer sollten sich an Ihren Lieferanten wenden und die Bedingungen des Verkaufsvertrages konsultieren. Dieses Produkt darf nicht zusammen mit anderem Gewerbemüll entsorgt werden.
 
( IT ) Corretto smaltimento del prodotto (rifiuti elettrici ed elettronici)
(Applicabile in i paesi dell`Unione Europea e in quelli con sistema di raccolta differenziata)
Il marchio riportato sul prodotto o sulla sua documentazione indica che il prodotto non deve essere smaltito con altri rifiuti domestici al termine del ciclo di vita. Per evitare eventuali danni all`ambiente o alla salute causati  dall`inopportuno smaltimento dei rifiuti, si invita l`utente a separare questo prodotto da altri tipi de rifiuti e di riciclarlo in maniera responsabile per favorire il riutilizzo sostenibile delle risorse materiali. Gli utenti domestici sono invitati a contattare il rivenditore presso il quale è stato asquistato il prodotto o l`ufficio locale preposto per tutte le informazioni relative alla raccolta differenziata e al riciclaggio per questo tipo di prodotto. Gli utenti aziendali sono invitati a contattare il proprio fornitore e verificare i termini e le condizioni del contratto di acquisto. Questo prodotto non deve essere smaltito unitamente ad altri rifiuti commerciali.
 
 
 
( DK ) Korrekt affaldsbortskaffelse af dette produkt
(elektrisk & elektronisk udstyr)
Mærket på dette produkt eller i den medfølgende dokumentation betyder at produktet ikke må bortskaffes sammen med almindeligt husholdningsaffald efter endt levetid. For at undgå skadelige miljø-eller sundhedspåvirkninger på grund af ukontrolleret affaldsbortskaffelse skal dette produkt bortskaffes særskilt fra andet affald og indleveres behørigt til fremme for bæredygtig materialegenvinding. Hjemmebrugere bedes kontakte forhandleren, hvor de har købt produktet, eller den lokale myndighed for oplysning om, hvor og hvordan de kann indlevere produktet med henblik på miljøforsvarlig genvinding.  Erhvervsbrugere bedes kontakte leverandøren og læse betingelserne og vilkårene i købekontrakten. Dette produkt bør ikke bortskaffes sammen med andet erhvervsaffald.
 
( LV ) Izstrādājuma pareiza likvidēšana
(nolietotas elektriskās un elektroniskās ierīces)
Uz izstrādājuma vai tam pievienotajas instrukcijās markējums norāda, ka to nedrīkst likvidēt kopā ar citiem sadzīves atkritumiem pēc tā ekspluatācijas laika. Lai novērstu videi un cilvēku veselībai iespējamo kaitējumu, kas ir saistīts ar nekontrolējamu atkritumu likvidēšanu, tas jānošķir no citiem atkritumiem un jāpārstrādā, lai sekmētu materiālo resursu atbildīgu atkārtotu lietošanu. Mājsaimniecības lietotājiem jāsazinās vai nu ar veikalu. kurā šis izstrādājums ir pirkts, vai ar pašvaldību. lai iegūtu informāciju par to. kā un kur var nodot šo izstrādājumu. lai garantētu ekologiski drošu reciklēšanu. Rūpnieciskajiem lietotājiem jāsazinās ar piegādātāju un jāpārbauda pirkuma līguma nosacījumi. Šo izstrādājumu nedrīkst sajaukt ar citiem likvidējamiem rūpnieciskajiem atkritumiem.
 
 
 
( EE ) Ōige viis toote kasutusest kōrvaldamiseks
(elektriliste ja elektrooniliste seadmete jäätmed)
Selline tähistus tootel vōi selle dokumentidel näitab, et toodet ei tohi kasutusaja lōppemisel kōrvaldada koos muude olmejäätmetega. Selleks, et vältida jäätmete kontrollimatu kōrvaldamisega seotud vōimaliku kahju tekitamist keskkonnale vōi inimeste tervisele ning edendada materiaalsete vahendite säästvat taaskasutust , eraldage toode muudest jäätmetest ja suunake taasringlusse.  Kodukasutajad saavad teavet keskkonnaohutu ringlussevōtu kohta kas toote müüjalt vōi keskkonnaametist. Firmad peaksid vōtma ühendust tarnijaga ning kontrollima ostulepingu tingimusi ja sätteid. Toodet et tohi panna muude hävitamiseks mōeldud kaubandusjäätmete hulka.
 
( LT )  Tinkamas produkto atliekgų tvarkymas
(atitarnavusi elektros ir elektronikos įranga)
Šis ženklas, pateikiamas ant produkto ar jo dokumentacijoje, nurodo, kad pasibaigus produkto tarnavimo laikui, jo negalima išmesti kartu su kitomis buitinėmis atliekomis. Kad būtų išvengta galimos nekontroliuojamo atliekų išmetimo žalos aplinkai arba žmonių sveikatai, ir siekiant skatinti aplinką tausojantį antrinių žaliavų panaudojimą, pašom atskirti jį nuo kitų rūšių atliekų ir atiduoti perdirbti. Informacijos, kur ir kaip pristatyi šį produktą saugiai perdirbti, privatūs vartotojai turėtų kreiptis arba į parduotuvę, kurioje šį produktą pirko, arba į vietines valdžios institucijas. Verslo vartotojai turėtų kreiptis į savo tiekėjà ir peržiūrėti pirkimo sutarties sàlygas. Šis produktas tvarkant atliekas negali būti sumaišystas su kitomis atliekomis.
 
 
 
( ES ) Eliminación correcta de este producto (Aplicable en la Unión Europea y en países europeos con sistenmas de recogida selectiva de residuos)
La presencia de esta marca en el producto o en el material informativo que lo acompaña, indica que al finalizar su vida útil no deberá eliminarse junto con otros residuos domésticos. Para evitar los posibles daños al medio ambiente o a la salud humana que representa la eliminación incontrolada de residuos, separe este producto de otros tipos de residuos y reciclelo correctamente para promover la  reutilización sostenible de recursos materiales. Los usuarios particulares pueden contactar con el establecimiento donde adquirieron el producto, o con las autoridades locales pertnentes, para informarse sobre cómo y donde pueden llevarlo para que sea sometido a un reciclaje ecológico y segura.
 
( NL ) Correcte verwijdering van dit product
(elektrische & elektronische afvalapparatuur)
Dit merkteken op het product of het bijbehorende informatiemateriaal duidt erop dat het niet met ander huishoudelijk afval verwijderd moet worden aan het einde van zijn gebruiksduur. Om mogelijke schade aan het milieu of de menselijke gezondheid door ongecontroleerde afvalverwijdering te voorkomen, moet u dit product van andere soorten afval scheiden en op een verantwoorde manier recyclen, zodat het duurzame hergebruik van materiaalbronnen wordt bevorderd. Huishoudelijke gebruikers moeten contact opnemen met de winkel waar ze dit product hebben gekocht of met de gemeente waar ze wonen om te vernemen waar en hoe ze dit product milieuvriendelijk kunnen laten recyclen. Zakelijke gebruikers moeten contact opnemen met hun leverancier en de algemene voorwaarden van de koopovereenkomsten nalezen. Dit product moet niet worden gemengd met ander befrijfsafval voor verwijdering.
 
 
 
( FI ) Tämän tuotteen turvallinen hävittäminen
(elektroniikka ja sähkölaitteet)
Oheinen merkintä tuotteessa tai tuotteen oheismateriaalissa merkitsee, että tätä tuotetta ei tule hävittää kotitalousjätteen mukana sen elinkaaren päätyttyä. Hallitsemattomasta jätteenkäsittelystä ympäristölle ja kanssaihmisten terveydelle aiheutuvien vahinkojen välttämiseksi tuote tulee käsitellä muista jätteistä erillään. Jäte on hyvä kierrättää raaka-aineiksi kestävän ympäristökehityksen takia.  Kotitalouskäyttäjien tulisi ottaa yhteyttä toutteen myyneeseen jälleenmyyjään tai paikalliseen  ympäristöviranomaiseen, jotka antavat lisätietoja tuotteen turvallisista kierrätysmahdollisuuksista. Yritskäyttäjien tulisi ottaa yhteyttä   tavarantoimittajaan ja selvittää  hankintasopiumuksen ehdot. Tätä tuotetta ei tule hävittää muun kaupallisen jätteen seassa.
 
( NO ) Korrekt avhending av dette produkt
(Avfall elektrisk og elektronisk utstyr)
Denne merkingen som vises på produktet eller dens dokumentasjon, indikerer at den ikke skal kastes sammen med annet husholdningsavfall ved slutten av sin levetid. For å hindre mulig skade på miljøet eller menneskelig helse fra ukontrollert avfallsavhending, vennligst atskill dette fra andre typer avfall og resirkuler det ansvarlig for å fremme bærekraftig gjenbruk av materielle ressurser.  Husholdningsbrukere bør kontakte enten forhandleren de kjøpte produktet av, eller lokale myndigheter, for detaljer om hvor og hvordan de kan frakte denne artikkelen for miljømessig trygg resirkulering. Forretningsbrukere bør kontakte sin leverandør og undersøke vilkårene i kjøpekontrakten. Dette produktet skal ikke blandes med annet kommersielt avfall som skal kastes.
 
 
 
( FR ) Comment éliminer ce produit
(déchets d'équipements électriques et élektroniques)
(Applicable dans les pays de l'Union Européen et aux autres pays européens disposant de systémes de collecte sélective) Ce symbole sur le produit ou sa documentation indique qu'il ne doit pas être éliminé en fin de vie avec autres déchets ménagers. L'élimination incontrôlée des déchets pouvant porter préjudice à l'environnement ou à la santé humaine, veuillez le séparer des autres types de déchets et le recycler de façon responsable. Vous favoriserez ainsi la réutilisation durable des ressources matérielles. Les particuliers sons invités à contacter le distributeur leur ayant vendu le produit ou à se renseigner auprès de leur mairie pour savoir où et comment ils peuvent se débarrasser de ce produit afin qu'il soit recyclé en respectant l'environnement. Les entreprises sons invitées à contacter leurs fournisseurs et à consulter les conditions de leur contrat de vente. Ce produit ne doit pas être éliminé avec les autres déchets commerciaux.
 
( PL ) Prawid owe usuwanie produktu
(zużty sprzęt elektryczny i elektroniczny)
Oznaczenie umieszczone na produkcie lub w odnoszących się do niego tekstach wskazuje, że produktu po upływie okresu użtkowania nie należy usuwać z innymi odpadami pochodzącymi z gospodarstw domowych. Aby uniknąć szkodliwego wpływu na środowisko naturalne i zdrowie ludzi wskutek niekontrolowanego usuwania odpadów, prosimy o oddzielenie produktu od innego typo odpadów oraz odpowiedzialny recykling w celu promowania ponownego użcia zasobów materialnych jako stałej praktyki. W celu uzyskania informacji na temat miejsca i sposobu  bezpiecznego dła środowiska recyklingu tego produktu użytkownicy w gospodarstwach domowych powinni skontaktować się z punktem sprzedaży detalicznej, w którym dokonali zakupu produktu, lub z organem władz lokalnych. Użtkownicy w firmach powinni skontaktować się ze swoim dostawcą i sprawdzić warunki umowy zakupu. Produktu nie należy usuwać razem z innymi odpadami komercyjnymi.
 
 
 
( GB ) Correct Disposal of This Product (Waste Electrical & Electronic Equipment) (Applicable in the European Union and other European countries with separate collection systems) This marking shown on the product or its literature, indicates that it should not be disposed with other household wastes at the end of this working life. To prevent possible harm to the environment or human health from uncontrolled waste disposal, please separate this from other types of wastes and recycle it responsibly to promote the sustainable reuse of material resources. Household users should contact either the retailer where they purchased this product, or their local govemment office, for details of where and how they can take this item for environmentally safe recycling. Business users should contact their supplier and check the terms and conditions of the purchase contract. This product should not be mixed with other commercial wastes for disposal.
 
( PT ) Eliminação Correcta Deste Produto
(Resíduo de Equipamentos Eléctricos e Electrónicos)
Esta marca, apresentada no produto ou na sua literatura indica que ele não deverá ser eliminado juntamente com os resíduos domésticos indiferenciados no final do seu período de vida útil. Para impedir danos ao ambiente e à saúde humana causados pela eliminação incontrolada de resíduos deverá separar este equipamento de outros tipos de resíduos e reciclá-lo de forma responsável, para promover uma reutilização sustentável dos recursos materiais. Os utilizadores domésticos deverão contactar ou o estabelecimento onde adquiriram este produto ou as entidades oficiais locais para obterem informações sobre onde e de que forma podem levar este produto para permitir efectuar uma reciclagem segura em termos ambientais. Os utilizadores profissionais deverão contactar o seu fornecedor e consultar os termos e condições do contrato de compra. Este produto não deverá ser misturado com outros resíduos  comerciais para eliminação.
 
 
 
( GR ) Σ ω σ τ ή Δ ι ά θ ε σ η α υ τ ο ύ τ ο υ Π ρ ο ϊ ό ν τ ο ς (Α τ τ ο ρ ί μ α τ α Η λ ε κ τ ρ ι κ ο ύ & Η λ ε κ τ ορ ν ι κ ο ύ Ε ζ ο τ λ ι σ μ ο ύ)
Τα σήματα που εμφανίζονται επάνω στο προϊόν ή στα εγψειρίδια που το συνοδεύουν, υποδεικνύουν ότι δεν θα πρέπει να ρίτιτεται μαζί με τα υπόλοιπα οικιακά απορρίμματα μετά τέλος του κύκλου ζωής του. Προκειμένου να αποφευψθον ενδεψόμενες βλαβερές συνέπειες στο περιβάλλον ή την υγεία εξαιτίας της ανεγξέλεγκτης σιάθεσης απορριμμάτων, σας παρακαλούμε να το διαψωρίσετε από άλλους τύπους απορριμμάτων και να το ανακυκλώσετε, ώστε να βοηθήσετε στην βιώσιμη επαναψρησιμοποίηση των υλικών πόρων. Οι οικιακοί ψρήστες θα πρέπει να έλθουν σε επικοινωνία είτε με τον πωλητή απ' όπου αγόρασαν αυτό προϊόν, είτε τις κατά τόπους υπηρεσίες, προκειμένου να  πληροφορηθούν τις λεπτομέρειες σψετικά με τον τοπο και τον τρόπο με τον οποίο μπορούν να δώσουν αυτό το προϊόν για ασφαλή προς το περιβάλλον αυακύκλωση. Οι επιψειρήσεις-ψρήστες θα πρέπει να έλθουν σε επαφή με τον προμηθευτή τους και να ελέγξουν τους και τι προϋποθέσεις του συμβολαίου πώλησης. Το προϊόν αυτό δεν θα πρέπει να αναμιγνύεται με άλλα συνηθισμένα απορρίμματα προς διάθεση.
 
( SE ) Korrekt avfallshantering av produkten
(elektriska och elektroniska produkter)
Denna markering på produkten och i manualen anger att den inte bör sorteras tillsammans med annat hushållsavfall när dess livstid är över. Till förebyggande av skada på miljö och hälsa bör proukten hanteras separat för ändamålsenlig återvinning av dess beståndsdelar.  Hushållsanvändare bör kontakta den återförsäljare som sålt produkten eller sin kommun för vidare information om var och hur produkten kan återvinnas på ett miljösäkert sätt.  Företagsanvändare bör kontakta leverantören samt verifiera angivna villkor i köpekontraktet. Produkten bör inte hanteras tillsammans med annat kommersiellt avfall.