Details

Category: PIKO latest news
27.05.2022 PIKO H0 Charity car "Ukraine"

Dr René F. Wilfer reports from China again in his new video - and addresses the inconceivable war in Ukraine.
The shocking atrocities Putin has brought upon Ukraine have left us at PIKO horrified and speechless.
We therefore asked ourselves how we can help the people affected. To help the Ukrainians who have lost their homes, PIKO is launching a charity car.
This wagon can be ordered now until 18.06.2022. The entire net proceeds from the sale of the charity car will be donated to the city of Sonneberg to support the reception of refugees from Ukraine.
The donation will be handed over to the representatives of the city of Sonneberg on 18 June during our "Open Day". On this day, visitors will also have the opportunity to order this charity car and thus help directly.
The layout of the PIKO Benefit Wagon highlights the importance of Ukraine to the world's food supply and we sincerely hope that this idyllic setting will become a reality again very soon.
We would like to thank you already today for your support, which you will give to the people from Ukraine by buying the PIKO charity car.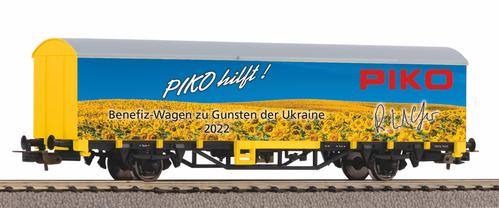 72227 H0 Charity car "Ukraine" DC 30,00 €*
72227AC ~H0 Charity car "Ukraine" AC 30,00 €*
Link to the wagons in the PIKO webshop
Delivery of the models is expected to take place at the end of October 2022.